I had consultations with two dentists who recommend All-on-4 implants. Recently, I saw a third dentist who recommended six to eight implants because I would get better coverage for bone stimulation, and my denture would be locked in place. But more implants might mean that I need a bone graft and have more healing time. If I choose All-on-4 but change my mind, can I get the implants removed and switched to six or eight? – Thank you. Nathan from Augusta
Nathan,
Thank you for your question. You deserve detailed answers that Dr. Pumphrey could provide only after an examination and reviewing the 3-D CT scan of your oral anatomy. We recommend that you ask each implant dentist for more details about their proposed treatment. However, we will answer your question in general.
Are All-on-4 Implants Removable?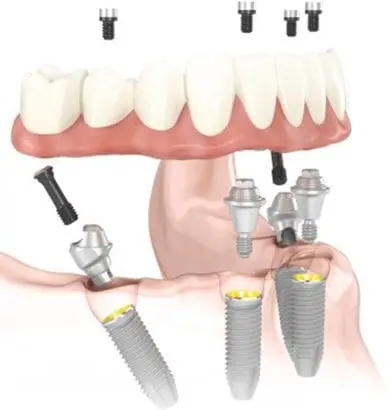 All-on-4 implants are a fixed overdenture attached to four dental implants. Only a periodontist or specialist can remove the denture. And only a periodontist or specialist can remove the implants. A periodontist or specialist can review your 3-D CT scan and explain options for increasing the number of implants to support your denture. But you do not want a doctor to remove healthy implants. And you will not need to remove All-on-4 implants to increase to six or eight implants.
Increasing from All-on-4 to All-on-6 or 8
If you want to increase from All-on-4 to six or eight implants, a specialist will review your 3-D CT scan to determine whether you have enough bone volume to support implants. If you do not, the periodontist will recommend bone grafting. A bone graft can take three to six months to heal before it is ready to support implants.
Before choosing how many implants you want to support a denture, consult with a periodontist, and ask questions about what it would take to place six to eight implants now versus later. Also, ask about implant stability with four versus six to eight implants.
The following factors may affect your decision:
You may need bone grafting before you can get more implants.
You will have three to six months of healing after bone grafting and three to four months of recovery after implant surgery.
After surgery to get more implants, you must resume a soft-food diet again.
If you decide to get six to eight implants, delaying the process will cost more time and money.
Please write down your questions and concerns before a consultation with a periodontist and take the time to weigh them carefully.
Dr. David Pumphrey, an Atlanta periodontist, sponsors this post.