My dentist said in order for me to get dental implants for my dentures I would need bone grafting. Is there any way to do that without the bone grafting? That is two surgeries.
Ben
Dear Ben,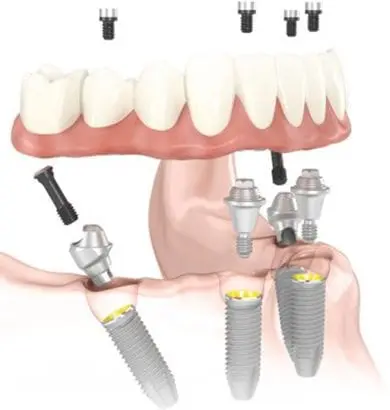 A lot of the what is possible for you depends on how much bone loss you are talking about. There is another procedure known as all-on-four dental implants (image above) which allows people with some bone loss to receive implant-supported dentures. I would go to a dentist or oral surgeon who has done that procedure many times and have the diagnostics done to see if you are a candidate. You don't want to do go forward if you aren't. If you do, it pretty much guarantees dental implant failure. Then you are talking about needing three surgeries in order to get the teeth you want.
If that isn't a viable option for you, then in order to get dental implants for your dentures, you will need bone grafting done. This is because the implants serve as your teeth roots. Just like with your natural teeth, these require bone support in order to keep them in place. Without that, they will literally fall out of your mouth.
Bone grafting is a fairly easy outpatient procedure. It will be worth it if that is the only way for you to get dental implants.
Benefits of Implant Supported Dentures
Not only will you never have to worry about your dentures slipping, sliding, or falling out, it has a much bigger benefit — the prevention of facial collapse.
When your teeth were removed, your body immediately began to resorb the minerals in your jawbone to use elsewhere in your body. It does that in an effort to be as efficient as possible with your body's resources. Unfortunately, this also slowly shrinks your jawbone. Eventually, you will not have enough bone left to even retain your dentures, making it impossible for you to eat all but the softest of foods.
Having implants in your jaw signals to your body that you still have teeth there and it leaves your jawbone in place.
This blog is brought to you by Atlanta periodontist Dr. David Pumphrey.