I have three teeth implants. One of them just came out. Is there a way for me to get it back in place and make it stay in at least temporarily? I have a tight deadline and travel plans next week. I don't know that I will be able to get to the dentist before then. Thank you. R. Turner
Dear R. Turner,
Thank you for your question.
Can You Put a Dental Implant Back in Place?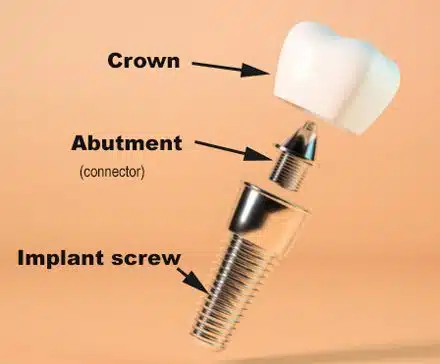 If your dental implant falls out, you cannot put it back in place. Please do not attempt to do so because it can damage the implant site. An implant dentist, surgeon, or periodontist placed your implant in your jawbone. If it fell out, you need an examination and x-ray to check your gum and bone health and why the implant fell out. Please do not expect the replacement to occur in one day.
What Happens If an Implant Falls Out?
If an implant falls out, an oral surgeon or periodontist will do the following:
Inspect the implant for defects and assess its quality
Complete an oral exam of your mouth, the implant site, and surrounding tissue
Take a 3-D x-ray to examine your bone tissue and gums
Look for signs of disease
Determine the condition of the tooth socket and whether you require a bone graft in it
Use the 3-D x-ray to identify the best location for a replacement implant
If an infection caused your implant to fall out, your periodontist would treat it first. It takes several months of healing before you can get a new functional implant in many cases.
Schedule an appointment with a periodontist immediately. Remember your options for a second or third opinion on why your dental implant failed. Please do not take any shortcuts to get a replacement dental implant. Allow a skilled periodontist to complete the diagnostic process before accepting treatment.
Dr. David Pumphrey, an Atlanta periodontist, sponsors this post.