I periodically get a bump behind my front tooth. Usually, they go away, but this one has been here for over a two days. Is this nothing to worry about or should I get it seen? My dentist didn't mention anything last visit, but I've never had a bump stay this long before.
Dalton
Dalton,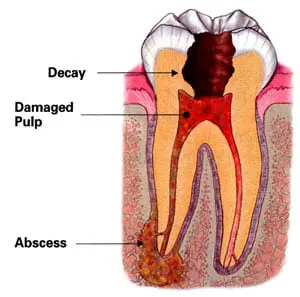 If I were your dentist, the first thing I'd be looking for is gum disease. What you've described sounds like a pimple on your gums which can be an abscess. This is an infection. It can be an infection on your gums from gum disease or one spilling out from an infected tooth.
Sadly, some dentists, more than I care to admit, don't screen for gum disease. That is the first thing I'd check. If it turns out you are showing signs, I would request a referral to a periodontist. These are gum disease specialists. Often this can sneak up on patients because the signs are invisible at first. If it is allowed to progress too far, it can advance enough that your adult teeth start to come loose. A periodontist can get your gums healthy much faster than a traditional dentist.
If it is a tooth infection, which means decay reached the pulp of your teeth, then the appropriate treatment is to have a root canal done. This cleans all the infected pulp out of the tooth. Often it requires a dental crown as well because the tooth becomes brittle.
Some patients are intimidated by having their gums worked on. This is especially true during gum disease because their gums are tender. If you have any concern or anxiety about this, you can always visit a periodontist who offers dental sedation options. This won't knock you out, but does completely relax you and you will have a pain-free appointment.
This blog is brought to you by Atlanta Periodontist Dr. David Pumphrey.