I am 67 years old and missing quite a few teeth. The rest of them are falling apart. I really wanted to just get rid of them and get dental implants. When I went to see the dentists, they were hesitant to extract teeth I still had. They were willing to replace the missing teeth, at the cost of $62,000. I went to Clear Choice to get another opinion. They were willing to remove all the teeth. They quoted me $53,000, which was still out of my range. When I explained I'm living on the benefits of being a disabled veteran they lowered the price to $23,000. That I can do, but I have heard there are complaints about Clear Choice. Before I move forward, I'd like to make sure it is a safe option. What do you think of them? They're going to do all-on-four implants.
Percy
Dear Percy,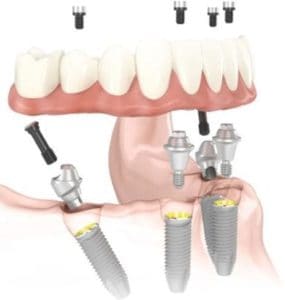 For the benefit of those who may not be aware, an all-on-4 dental implant procedure (illustrated above) is a dental implant procedure that utilizes angles of the implants to help patients with minor bone loss.
As to the complaints about Clear Choice, those are usually more about their sales tactics than their skills. The dentists they hire tend to be skilled and know what they are doing so I believe you would be safe going to them. The significant drop in price is a tad suspicious to me. If they can offer that much of a discount, how much were they inflating the price? That type of thing bugs me. Profit is fine and important for anyone to succeed in business. But, massive price inflation is bothersome.
I'm curious about the dentist you saw refusing to extract your teeth. If you were 25 years old, I could understand that. The effects of wearing dentures starting that young would be devastating. Facial collapse would definitely set in while they were still young, destroying their lives. However, you are closing in on 70 years old and the teeth aren't healthy.
If your gut is telling you something isn't right at Clear Choice, then I would go back to the dentist and tell him that you are determined to have the teeth extracted and would like them to do it and provide you with either all-on-4 dental implants or implant overdentures. Let them know Clear Choice has offered to do it and see if they will come close to matching their offer.
This blog is brought to you by Atlanta Periodontist Dr. David Pumphrey.