I had six dental crowns done many years ago on my front teeth. I loved how they looked and they functioned beautifully. As they were getting old, I had to replace them. Unfortunately, no dentist I've been to since has been able to get them right. This is dentist number three trying to replace them and match my previous results. The latest dentist placed e.max crowns. They are way too thick. When I complained about it he said he did that because my gums are thick. Is there any way for me to get a beautiful result? Will taking these crowns off break the teeth? I'm worried because they're already fragile already.
Frannie
Dear Frannie,
There is no reason to make thick dental crowns just because your gums are thick. He doesn't understand the functional principles at play here. It is more important to have a natural emergence angle where the crown meets the tooth. Thick crowns cause a serious functional problem.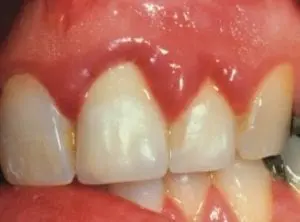 On the left, I have an image of what happens when the dental crowns on a tooth are too thick. As you can see, it creates a protected area where the crown and tooth meet. This creates a problem where disease-causing bacteria can multiply and food particles will also get to in there and make it impossible to clean.
This means you will develop gum disease. Not only will you need a periodontist to treat that, but if left untreated you can end up losing your teeth.
e.Max Crowns are made of lithium disilicate. This is a very tough material, which has to be ground off. It can be removed, but your dentist has to do it carefully and methodically. As long as your dentist is good and knows what he's doing, the underlying teeth will not be damaged. I'm going to be honest, I don't think your dentist is up for the job.
Because he's put your teeth in danger with these thick crowns, I'd just ask for a refund and then go to a different dentist to do it. One way to figure out if they can do this is to go to them for a second opinion on the crowns and see if they have the same reaction I do.
This blog is brought to you by Atlanta Dentist Dr. David Pumphrey.