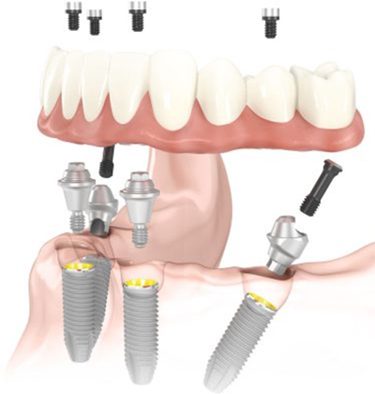 If you are considering implant dentures, you may wonder which insurance covers them. Many people fear the risks of wearing traditional dentures, including bone loss and a sunken face that causes premature aging. Implant dentures, including All-on-4 dental implants, can prevent those concerns. The cost of implant-supported dentures in the U.S. ranges from $20,000 to $50,000. Factors that affect the cost include how many implants you receive, the quality of the implants and your denture, dental fees in the city where your implant specialist practices, and fees related to your unique needs. Will insurance offer any coverage?
Which Insurance Covers Implant Dentures?
Insurance plans that offer some coverage toward the cost of implant dentures are higher-tier or premier plans. Value or budget plans limit benefits to preventive care and essential dental services. Remember that dental insurance will not cover the entire cost of dental implants. Some plans categorize dental implants as elective procedures and deny coverage.
Before you agree to implant dentures, plan for the cost with these steps:
Ask your periodontist or implant specialist for a pretreatment estimate.
Send the estimate to your dental insurance company to determine whether the plan will provide any coverage.
Calculate the out-of-pocket expenses you can expect to pay.
What Does Cost of Implant Dentures Include?
The cost of implant-supported dentures, including All-on-4 dental implants, varies with each patient, depending on their oral health, needs, and the implant specialist's fee. The cost can include these fees:
Consultation
Comprehensive exam
X-rays
3-D CT scan
Anesthesia
Teeth extractions
Bone grafting materials and procedures
Gum tissue procedures
Implant fixtures, including artificial roots and abutments (connectors)
Implant surgery
Surgical supplies and materials
Surgical facility fees
Temporary replacement teeth and their placement
Final denture fitting and fabrication
Your dentist's fees for placing the final denture
After evaluating your oral health, your periodontist will customize a treatment plan that lists the procedures you need for implant dentures.
How Can You Afford Implant Dentures?
You can afford implant dentures with dental insurance, out-of-pocket spending, and planning. Some periodontists partner with financing organizations like CareCredit®, offering payment plans to make treatment affordable. You may find options for health care credit cards or loans with low- or no-interest if you pay the balance in full according to the terms.
How to Minimize Costs After Implant Surgery
You can minimize costs after implant surgery by following your periodontist's or implant specialist's post-surgical instructions. You will receive detailed instructions for your recovery regarding these factors:
Physical activity
Oral hygiene
Foods to eat and avoid
Avoiding tobacco products
Check-up appointments
The American Academy of Periodontology confirms that it takes two to six months for your implants and jawbone to fuse. Following the guidelines during those months will help you avoid irritating your surgical sites and damaging your implant overdenture.
Schedule a Consultation
If you live in the Atlanta area, periodontist Dr. David Pumphrey has more than 30 years of experience in precise planning and placement for implant dentures. His patients describe his care as professional, kind, smooth, and effortless. Request a consultation with Dr. Pumphrey.
If you live outside of the Atlanta area, you may visit the American Academy of Periodontology's website to find a periodontist near you.