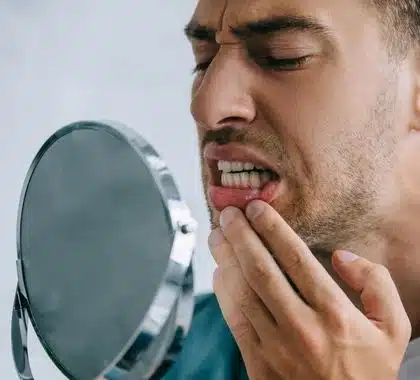 I noticed a patchy white spot on my lower left gums last month, but I didn't think anything of it. When I see minor issues in my mouth or on my skin, I do not pay much attention to them unless I have symptoms with them. I forgot about the white spot. This morning while flossing, I noticed five or six white spots on my lower gums. I didn't memorize the location of the first spot I saw last month, so I don't know if it went away or if it's one of the five or six. Now, I am concerned and wondering why I have the spots. What causes white spots on the gums? – Thanks in advance. Devon from Fort Wayne, IN
Devon,
Thank you for contacting Dr. Pumphrey's office with your question. Dr. Pumphrey would need to complete an exam to determine the cause of the white spots on your gums, but we will provide general information.
Why Do You Have White Spots on Your Gums?
The cause of white spots on your gums can be one of several conditions, including canker sores, oral thrush, gingival reactive keratotic lesions, leukoplakia, or oral lichen planus. We will explain each of these conditions.
1. Canker Sores
Canker sores are small, raised ulcers on the inside of your mouth. They are benign and non-contagious. Although canker sores most often appear on the inside of the lip, they can cause white spots on your gums.
What causes canker sores?
Canker sore causes include:
Stress
Acidic foods
Injury
Dental appliances, such as braces or dentures that do not fit well
Nonsteroidal anti-inflammatory drugs, including ibuprofen
2. Gingival Reactive Keratotic Lesions
Gingival reactive keratotic lesions are white spots on oral tissue that can be benign or dysplastic, containing abnormal cells that may become cancerous.
What causes gingival reactive keratotic lesions?
Heat and chemicals may irritate gum tissue and cause lesions, including:
Tobacco use
Heavy alcohol consumption
Reaction to toothpaste or dental cleaning gels, powders, or liquids
3. Leukoplakia
Leukoplakia is thick white patches inside your mouth on your gums, sides of your cheeks, the bottom of your mouth, or tongue. The patches are generally not painful. An October 2020 article in the Journal of the National Cancer Institute says oral leukoplakia is the most common oral precancerous lesion.
What causes leukoplakia?
Although the exact cause of leukoplakia is unknown, common oral tissue irritants that can lead to the condition include:
Smoking
Chewing tobacco, paan, or betel nuts
Excessive alcohol consumption
4. Oral lichen planus
Oral lichen planus is a chronic inflammatory, an autoimmune condition that causes your body to attack your oral tissue. White patches of raised tissue can appear almost anywhere in your mouth, including your gums, inner lip tissue, tongue, insides of your cheeks, and palate. The lesions require regular monitoring by your periodontist for early detection of cancerous cells.
What causes oral lichen planus?
The exact cause of oral lichen planus is unknown, but these factors may trigger it:
Certain medications
Oral injury
Reaction to dental chemicals or materials and resulting infection
5. Oral thrush
Oral thrush is an infection that causes white, raised lesions on your tongue and the insides of your cheeks. Sometimes, it spreads to your gums or the roof of your mouth. The condition is benign but contagious if you are exposed to the saliva of someone who has oral thrush.
What causes oral thrush?
An overgrowth of the Candida fungus causes oral thrush. Factors that lead to Candida overgrowth include:
Illness
Stress
Medications
What Is the Treatment for White Spots on Your Gums?
The treatment for white spots on your gums depends on their cause. Rather than schedule an appointment with your medical doctor or general dentist, schedule an exam with a periodontist (a gum specialist with three years of advanced training) for an accurate diagnosis. Your periodontist may biopsy your oral tissue as part of the diagnosis. Afterward, they will explain your treatment options. Avoid guessing at the cause of your condition and treating it yourself, which can delay proper care and make things worse.
Dr. David Pumphrey, an Atlanta periodontist, sponsors this post.