More than 120 million people in the United States have lost at least one tooth. About forty million Americans are missing all their teeth. Dental implants are the most effective way to replace missing teeth. But they are also the most expensive option. Are they worth it? How often will you need to replace them?
How Often Do You Need to Replace Dental Implants?
You may never need to replace high-quality dental implants if your doctor plans for them carefully and places them with precision. Dental implants are artificial tooth roots with a design that last decades—often a lifetime. Your commitment to maintaining excellent oral health can help your implants last. A 2014 report on the long-term survival rate of dental implants reveals the following:
A study of 13,049 two-stage implants had a 92 percent success rate over fifteen years.
A study of 5,515 one-stage surgery implants had a success rate of 85 percent over ten years.
What is the difference between one-stage and two-stage implant placement?
The difference between one-stage and two-stage implant placement is when the doctor places the abutment. Abutments are connectors for attaching replacement teeth (dental crowns, bridges, or dentures) to the implants.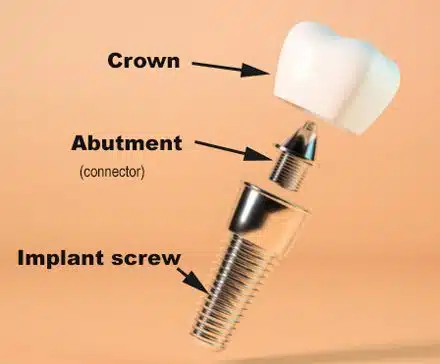 One-stage implant placement – During one-stage surgery, a doctor immediately attaches an abutment to the top of the implant.
Two-stage implant placement – During two-stage surgery, a doctor closes the implant site and waits for three to four months before exposing the site and attaching an abutment.
How Often Will You Need New Replacement Teeth for Implants?
Although the dental implants, or artificial tooth roots, can last a lifetime, you must periodically replace the dental crowns, bridge, or denture attached to the implants. Your replacement teeth will last ten to fifteen years if you take diligent care of them and get regular exams and cleanings from your dentist.
What Are the Advantages of Dental Implants?
Advantages of dental implants include:
Stabilize replacement teeth and improve function, including speaking and eating
Stimulate the jawbone and prevent it from shrinking and affecting your facial appearance
Look and feel more natural than removable replacement teeth
What Can You Do to Help Your Dental Implants Last?
You can help your dental implants last in the same ways that you take care of natural teeth:
Brush twice daily with a soft toothbrush and nonabrasive paste.
Floss between your teeth daily.
Eat nutritious foods that support your gum, teeth, and bone health.
Schedule regular dental exams and cleanings.
What Affects the Longevity of Dental Implants?
The longevity of dental implants begins with a skilled doctor with advanced training in implantology. The doctor's skill and experience with hundreds—sometimes thousands—of implant cases can give you a better outcome.
Why Choose a Periodontist Over a Dentist or Oral Surgeon?
Unlike a dentist or oral surgeon, periodontists are specialists in diagnosing and treating conditions that affect the gums and bones that support your teeth. After dental school, periodontists complete two to three years of training specific to teeth, gum, and bone health. A periodontist will use a 3-D CT scan to see your oral anatomy and bone to customize a treatment plan for you and place implants precisely. Look for an experienced periodontist and schedule a dental implants consultation.
Dr. David Pumphrey, an Atlanta periodontist, sponsors this post.