I have a two tooth bridge on my left side and the same on my right. Originally, the left was only a one tooth bridge, but the other tooth came loose. Now, I feel the bridge loose again. I'm concerned that will mean another lost tooth. I doubt I'll be able to get a larger bridge. He warned me losing any more teeth will mean dental implants. What I want to know is if it's significantly cheaper to get an overdenture instead of straight implants?
Kevin
Dear Kevin,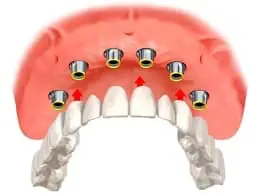 While it's possible you are losing another tooth, it could also be a simple solution like the dental bridge just coming loose. Possibly there's decay underneath as well. Either one of those problems is much more affordable than replacing the tooth. So, as much as you dread hearing the worst case scenario, go in soon in case it's an easier fix. If you put it off, it will become the worst case scenario.
To answer your question, you should be aware that prices vary from dentist to dentist and from the area of the country you live. I'll give you a low to high on everything. Just be careful not to go for the cheapest price for the sake of cheap. Getting poorly done or cheap dental implants will end up costing significantly more. It's an advanced procedure and you want a dentist with the post-doctoral training and skill necessary to do it correctly.
Cost of Implant Overdentures Versus Individual Dental Implants
An individual dental implant can cost anywhere from $2,000 to $6,000 dollars. Going with a full arch, that's about 14 teeth. The total cost is anywhere from $28,000 to $84,000.
A straight removable denture generally costs about $2,500. While that's a significant monetary "savings", the cost to your health is a lot more. You'll be left with facial collapse in about ten or so years.
Implant overdentures save you money while preventing the worst side effects of dentures. They can be anywhere from $1,000 to $3,000 per tooth for the implant fixture. You can usually fix a denture with anywhere from 4-6 implants, so that would range from $4,000 to $18,000 for the implants and around $2,500 for the dentures.
You would definitely come off better financially with the implant overdentures, without any of the downsides of dentures, which are significant.
I hope this helps.
This blog is brought to you by Atlanta Periodontist Dr. David Pumphrey.